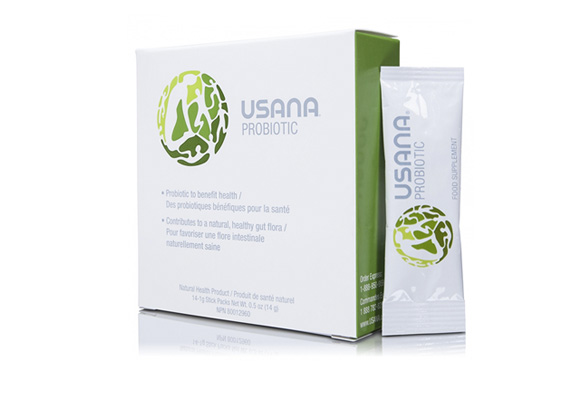 Save up to 10% ($35.95) on retail Price as a Preferred Customer (click HERE) on all USANA Vitamins Supplements for the adults.
A probiotic is a live bacteria that is found naturally in the body and can also be found in foods and supplements.
Probiotics can be extremely beneficial to your health, especially your digestive health.
The human digestive system is a delicate balance of both "good" and "bad" bacteria, called microflora. The secret is in finding the proper balance of the microflora with the help of probiotics.
Since the bacteria only last in your digestive tract about a week, you'll want to take the probiotic on a regular basis in order to experience the maximum health benefits.
USANA® Probiotic is a dairy and sugar free supplement that promotes a balance of beneficial microflora in the gut, immune health, digestive health, regularity.
Directions: 
Add the contents of one stick pack to water or other favorite cold beverage and drink immediately.
Take one stick pack every 1–2 days, or as needed. Take at least 2–3 hours before or after taking antibiotics.
USANA Probiotic | USANA Supplements in Canada
Dairy and sugar free Probiotic food supplement for  the digestive system as a USANA Optimizer.
Health Basics  
Source of probiotics

Contains 12 billion colony-forming bacteria per serving at time of manufacture

Provides live microorganisms that temporarily modify gut flora
USANA Canada Probiotic difference:
USANA Canada Probiotic Supplement is unlike competing products because it containsLactobacillus rhamnosus LGG® and Bifidobacterium BB-12®, two strains of specific probiotic bacteria shown to survive the harsh acidic environment of the stomach.

Another advantage of USANA Canada Probiotic Supplement is that its dairy- and sugar-free delivery system ensures that the bacteria will be stable at room temperature for two years.
USANA Canada Probiotic Supplement difference:
Effective

Safe

Science-based

Pharmaceutical Quality
Each pack of USANA Canada Probiotic Supplement contains:
Medicinal Ingredients:
Bifidobacterium BB-12® / Bifidobacterium BB-12MD 6 billion CFU

Lactobacillus rhamnosus LGG® / Lactobacillus rhamnosus LGGMD 6 billion CFU
Non-Medicinal Ingredients:
D-Mannitol, Inulin, Silicon Dioxide.
Caution: Keep out of the reach of children. Consult a physician if you are pregnant, nursing, taking a prescription drug, or have a medical condition. If you have nausea, fever, vomiting, bloody diarrhoea or severe abdominal pain, consult a physician before use. If symptoms of digestive upset (e.g., diarrhoea) occur, worsen, or persist beyond 3 days, discontinue use and consult a physician. If you have an immune-compromised condition (e.g., AIDS, lymphoma, patients undergoing long-term corticosteroid treatment), do not use this product.
Some studies have suggested that probiotics that use multiple species have been shown to be more effective than those with only one strain. These two strains have been well documented to completely ensure the journey as they travel through the harsh acids in the stomach en-route to the intestines.
This is just one more way USANA's got the bases covered.
BB-12® is a registered trademark of Chr. Hansen.
LGG® is a registered trademark of Valio Ltd.
Made in United States.
USANA HEALTH SCIENCES, INC. SALT LAKE CITY, UTAH 84120
USANA Products in Canada distributed by: USANA CANADA COMPANY
80 Innovation Drive, Woodbridge, Ontario L4H 0T2
USANA Canada Supplements: Store below 25˚ C.